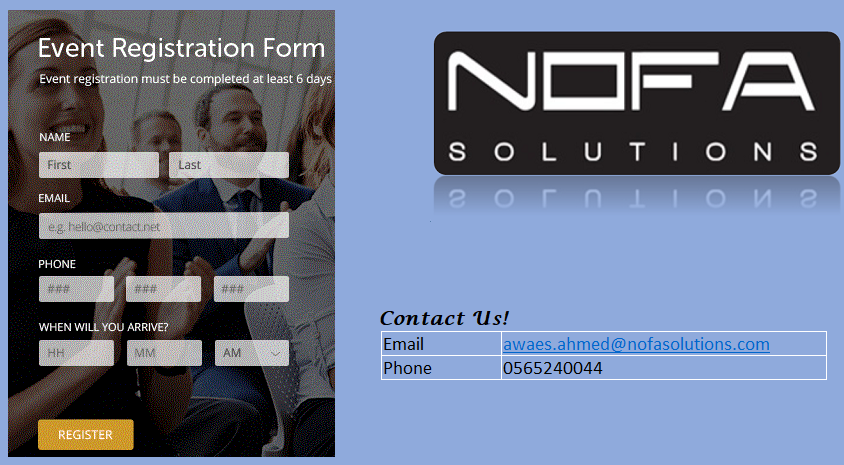 Nofa Solutions is one of the leading companies in the field of events in Saudi Arabia. We offer our customers all the services related to events such as trade shows, conventions, conferences and seminars. International events provide you a platform to connect with global and local companies and to reach the wide range of target audience of various economics sector. This is our job to increase the new investment into Riyadh through exhibitions and conferences. Our aim is to create the environment of promotion of products and services in the country and enhance the exhibition industry in the local market. Whether you are promoting a business or launching a new product, we are the right solution for all your queries.
We give our 100% in enabling the events, to meet the target and ensure that your event will be successful. Our services include development of the event, planning and management of the event, venue finalizing, online registration service, catering service, designing of the event venue, on site servers, etc. We make a proper plan before the execution of the event. We also provide networking platforms and business opportunities for the exhibitors. We organize the event in various innovative formats, platforms and with latest technologies to make sure that our events will fulfill the demands of our clients and market of Riyadh. We work following the latest trends and technologies.
The event organized by us provides you the opportunity of a wide range of targeted and senior level audiences, high level conference presentations and case studies related to the event, one on one meeting with the local and global company dealers, workshops, etc. In the event you will get the opportunity to meet qualified buyers who can conduct the business with you. We have a past record of organizing one of the best events in Riyadh and working with high profile people. We keep our clients updated regularly and provide the connection of qualified business. You can use our service to meet buyers and sellers in Saudi Arabia, arrange meetings and make strong business relationships.
With the power of our effective events, you can get the opportunity of signing the deals then and there only or just after the event. After the event gets over you will definitely establish a strong presence on the Saudi Arabia's business market. We offer our full support to our clients. We make sure that you will run according to your needs and demands. We are working with the professional contractors who are in the industry for several years. We are experts at selecting the perfect venue for your event in Riyadh with the best rates keeping your budget in mind. We provide a wide range of pre registration services.